Email :
lafrenaie59@gmail.com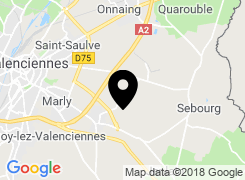 Capacity :

10 people

Number of bedrooms :

4
Pascale et Jean-Yves sont deux passionnés de voyages et altruistes dans l'âme ! On comprend ça tout de suite en discutant avec eux, même 5 minutes ! L'Asie en général, et l'Inde en particulier, font partie des destinations qui les ont marqués, pour la gentillesse des habitants et les surprises culturelles. Mais ne vous attendez pas à un voyage en Asie si vous vous rendez au domaine de la Frênaie qu'ils ont créé il y a neuf ans. A part quelques jolies photos souvenirs accrochées aux murs, au détour d'un couloir, la décoration du domaine est entièrement nordique. Pas scandinave à tendance « IKEA », mais « nordique du Nord de la France », une région chère à nos hôtes et surtout, pleine de ressources. La suite Clef d'Art met le fer forgé à l'honneur, clin d'œil à l'industrie sidérurgique florissante par le passé. La Clef du Bonheur est un hommage à l'industrie textile et à la dentelle (de Valenciennes et de Calais) ; une chambre de charme un tantinet rétro aux détails subtiles (gros coup de cœur pour la machine à coudre vintage Singer que les propriétaires ont utilisée comme pied de lavabo). La Clef des Champs quant à elle, est située dans ce qui était auparavant une écurie !

L'ancien abreuvoir a été conservé, comme pour se souvenir de l'activité de la ferme, et les teintes rouges et beiges vous plongent immédiatement dans une ambiance cottage très agréable.

Après une visite guidée des quatre chambres et du jardin, j'ai choisi celle où je passerai la nuit : la suite Clef d'Or. Non seulement, c'était la première que j'avais visitée et je m'y suis tout de suite sentie à l'aise mais en plus, la lumière était parfaite pour y faire de jolies photos qui rendraient hommage à ce gîte si bien aménagé par Pascale. Une chambre à la décoration raffinée et royale, typique des domaines de campagne bourgeois d'autrefois. Le plancher d'origine et les teintes apaisantes sur les murs, le grand lit parsemé de nombreux coussins, la salle de bain immense avec baignoire sur pieds ont eu raison de moi, c'est évident.
Après un copieux petit déjeuner essentiellement maison et à base de produits régionaux, je m'en suis allée avec l'impression de m'être ressourcée. J'ai passé une nuit paisible, sans avoir besoin de dormir jusqu'à point d'heure pour récupérer du manque de sommeil !

Mon seul regret ? Ne pas avoir eu le temps d'enfiler mon maillot de bain et de sauter dans le jacuzzi ou la piscine chauffée… Mais je suis certaine que d'autres en profiteront pour moi. Vous peut-être ? Comptez entre 79 et 119€ la chambre, un tarif bien moins élevé que le vrai coût du dépaysement. Supplément de 30 € par lit supplémentaire.

- Manon Ledet Made in Faro
Comfort

Internet access
Digital TV
WIFI
Television

Facilities

Park
Private car park
Swimming-pool
Private bathroom
Spa
Tennis

Services
These availabilities are provided for information only, contact the establishment for more precise information.
Opening times
From 1 December 2019 to 31 October 2020
Prices
One person (B&B)

from

68 €

to

87 €

Two people (B&B)

from

77 €

to

117 €

Additional person
30 €
Tourist tax
0.85 €
Contact
Le Domaine de la Frénaie
Address :
27 rue de la liberté
59990 Estreux
Phone :
Spoken languages