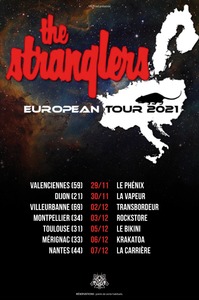 Un véritable monument du rock international rejoint la nouvelle programmation du théâtre d'Anzin mais au phénix (le théâtre d'Anzin étant en travaux et sort hors les murs).

THE STRANGLERS , un groupe mythique international, d'origine britannique, ayant un style en tout genre, et sur lequel nous avons toutes et tous dansé !

Un des groupes les plus durables de la scène rock et l'un des très rares issus du mouvement rock à n'avoir jamais cessé d'exister.

Pour vous, nos fans de brit-rock, nous vous annonçons que nous avons l'honneur d'accueillir The Stranglers (Official) pour sa tournée d'adieu ! La seule date au Nord de Paris !!!!

Dans le cadre de notre programmation hors les murs, ils se produiront sur la scène du phénix scène nationale Valenciennes pôle européen de création, le lundi 29/11/2021 !
A vos agendas and « Always the sun » !
| Prices | Min | Max | Description |
| --- | --- | --- | --- |
| Base rate | 28.50 € | / | |