With its extensive knowledge of the full range of services and facilities available in the Valenciennes area,
the Tourist Office's Congress & Seminar Department is there to help.
Valenciennes is accessible from all over Europe with no fewer than five international airports within easy reach, a TGV line for Paris (high-speed train) and the Eurostar nearby not to mention a dense motorway network.
Welcome to one of France's youngest metropolitan areas. A welcoming, dynamic and fast changing area with an outstanding business culture. Our Congress & Seminar Department is on hand to help you organise your seminars, colloquiums or company meetings.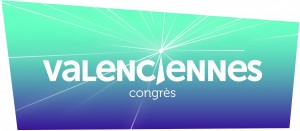 Whether you are planning to launch a new product, organise a meeting for different technical staff, to thank your clients or your salesforce, or to plan an annual general meeting, the Congress & Seminar Department can meet your needs, accurately identifying your requirements to propose the solutions best adapted to them.
The finalisation of your project will include the negotiation of meeting rooms or workshops and the accompanying services such as the reservation of hotel bedrooms, caterers or hospitality and security services, all just a stone's throw from Valenciennes town centre. A fixed-price "all in" quote can be sent to you on request.
Make the most of your seminars to discover the richness and diversity of the Valenciennes area's artistic and cultural heritage sites. Your stay in the Valenciennes area can also include a city tour narrated by a guide from the Tourist Office or other recreational activities to round off your stay nicely.
Whether you prefer all the convenience of the city centre or a welcome change of scenery in an authentic village of the Valenciennes area, we can propose a number of different service providers meeting your requirements. Consequently you can enjoy the varied urban heritage of Valenciennes or discover the peaceful beauty of one of our villages to fully appreciate its rural and natural attractions.
According to your tastes and preferences, our partners can propose a prestigious, rural, fun or unusual setting for your event.
If you're a company or a sports club, with its in-depth knowledge of the range of services and facilities available in the region the Congress & Seminar Department will welcome and support you throughout the organisation of your event, company seminar or business meal, through to the completion of your project:
Drafting the schedule of conditions for your project including the budget, objectives, needs and constraints, etc.
Booking the necessary facilities.
Arranging the private hire of an outstanding venue, organising your gala evening (stadium, fine arts museum, theatre, casino, etc.).
Anticipating your requirements in terms of equipment and room layout or space, etc.
Reserving the caterer, restaurant and accommodation, etc.
Organising shuttle services for guests,
Proposing and reserving activities (guided tours, tasting sessions, performances, etc.).
Contact the Congress & Seminar Department:
Françoise DEHONT
+ 33 (0) 3 27 28 89 10 / Ligne Directe : +33 (0) 3 27 28 89 06
fdehont@tourismevalenciennes.fr