The Valenciennes Métropole urban area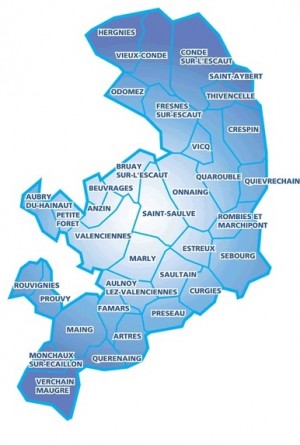 The Valenciennes Métropole urban area
is situated in the Hainaut region. The Valenciennes district covers a total of 63,480 hectares. It has 349,038 habitants (data from 2009), with a population density of 549.8 inhabitants per km2 making this the most populous area of the Nord-Pas-de-Calais region.
The urban area as a whole has 82 districts, of which the most populous is Valenciennes with 44,362 habitants (according to the 2010 census). It also has three inter-municipal associations including Valenciennes Métropole which has 35 districts.
The perimeter of the urban community encompasses 263 km2. It has a population of more than 191,000 inhabitants, of whom 26% are under the age of 20, making this a population which is slightly younger than the French national average.
Valenciennes Métropole has 23 rural or suburban districts with less than 5,000 inhabitants, i.e. 2/3 of the urban community's districts and 1/4 of its habitants.
The automotive and rail industries, digital design, and logistics are all economic centres of excellence in the area. Among the area's main companies we should mention: Toyota Motor Manufacturing France, Bombardier Transport France, Alstom Transport, Lyreco and Vallourec, etc.