Email :
la.gentilhommiere@wanadoo.fr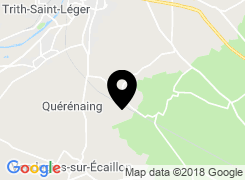 Capacity :

20 people

Number of bedrooms :

10
Escapade de charme
Escapade of charm If you want to live an enchanted parenthesis a few minutes from Valenciennes, take the direction of Artres in the Valley Rhônelle. An old 18th century farmhouse offers a well-being bubble in a remarkable historic setting. For a long time it was called the cense of the castle or Catiau farm ... It is impossible, when arriving in the village, not to be tempted to pass under the large porch dovecote dated 1747. What a stamp! No wonder Depardieu, Jean Carmet, Renaud and Miou-Miou were seduced by these walls during the shooting of the film Germinal, which was held right there, in front of the church of Saint-Martin. Besides, know that the small chapel below the church was built for the film. The building next door served as a grocery store and the sheds were the factory offices! Prince Rainier from Monaco also came to the village, this is the other local glory, says Anne Gillard, whose parents 20 years ago, helped to make this old manor farm a hotel-restaurant recognized for its charm and its romanticism. With Juliette Dendievel, also creator of the company Lucullus owner of the mill of Artres, she gives a new breath to the places by perpetuating their family spirit. Romance and greed And indeed, the welcome of Magali is very friendly. We enter this green setting of two hectares to disconnect and spend a romantic and gourmet weekend. That day, some Englishmen took advantage of the large terrace and the pergola strewn with wisteria, while a future bride and her friends made the last scoutings in the large vaulted room of exposed bricks. Exceptional setting for a day J! Especially as in the park, a magnificent kiosk, inheritance of the film of Claude Berri, offers a decoration of choice for the photos! Like the restaurant, created in the old stables, with its exposed brick walls and local blue stone troughs. A haven of choice to enjoy fine and tasty cuisine, concocted by the chef Dominique Gravelle and his brigade. Lucullus tongue and its warm brioche; scallops and parsnip mousseline, veal kidneys flambéed with Houlle gin, heart of sweetbreads fried in butter and cream of sauternes, Valenciennois choco-crunchy and speculoos, crepes Suzette Grand Marnier: here we made the Share beautiful local and local products and authentic flavors. The taste buds still full of flavors, reputed and enchanted, it was enough for me to cross the large courtyard paved in the glow of the falling night to reach one of the ten rooms of the field, calm, felted, nicely decorated with taste and simplicity and especially large and comfortable. What to recharge his batteries to begin the next day the discovery of Valenciennes!
Comfort

Internet access in the rooms
Digital TV
WIFI
Canal+
Cable/Satellite
Iron
Baby's bed
Hair dryer
Direct dial
Telephone reserved for clients
Television

Facilities

Access for disabled
Bar
Garden
Private car park
Restaurant
Meeting room
Lounge

Services

Animals accepted
Banquet
Restaurant
Prices
Price per room

from

85 €

to

100 €

Breakfast
11 €
Contact
La Gentilhommière
Address :
2 rue de l'Église
59269 Artres
Phone :
Spoken languages