Boulevard Henri Harpignies
Phone. :
0033(0)327323232
Email :
contact@lephenix.fr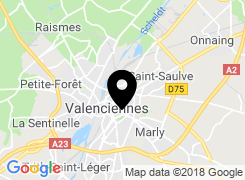 The phoenix, national scene, a bold architecture, is one of the most beautiful facilities between Paris and Brussels. The Phoenix offers popular and innovative shows in the fields of theater, dance, music and circus. Programming available in the agenda section. ATTENTION: The phoenix is exceptionally closed for 7 months of renovation work until October 15th but the shows are maintained and will be played outside on the neighboring scenes (Anzin Theater, Nymphéas à Aulnoy, Espace Athena of Saint Saulve ..)
Facilities

Access for disabled
Boutiques
Car park
Restaurant
Meeting room
Auditorium

Services

Tourist brochures
Show reservations

Activities

Activities
Special theme activity
Adult workshop
Children's workshop
Lectures
Evening entertainment
Sound and light show
Shows
Theatre
These availabilities are provided for information only, contact the establishment for more precise information.
Contact
le phénix - scène nationale
Address :
Boulevard Henri Harpignies
59300 Valenciennes
Phone :