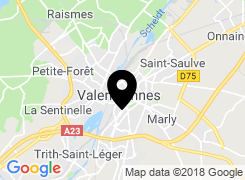 L'ancienne église des frères Mineurs, devenue paroissiales sous le vocable de Saint-Géry est, dans la ville de Valenciennes, la seule qui remonte au Moyen-Age. De son origine, elle a conservé 12 piliers de pierre avec leurs chapiteaux, symbolisant les 12 apôtres et une partie de son chœur datant du XIII°siècle
The Belfry Church of Saint Géry in Valenciennes.
The former Franciscan church, which became a parish church bearing the name of Saint-Géry, is the only one in Valenciennes dating back to the Middle Ages. Of the original building it has retained 12 stone pillars with their capitals, symbolising the 12 Apostles and part of the choir dating from the 13th century. The building escaped the revolutions and wars but underwent a number of transformations in the process. Built in 1850, its tower features a neo-Gothic romantic style and provided a solution to a twofold historical anomaly: that of a church without a bell tower and a town without a belfry. It provided Valenciennes' oldest church with a tower to replace that which the Cordeliers had demolished six centuries earlier, in keeping with their vow of poverty, and replaced the town's belfry which had collapsed several years earlier in 1843.