Ferme d'Haussy, Cense du château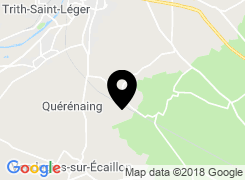 The Haussy Farm known as the Cense du Château in Artres
The small agricultural village of Artres offers the visitor not only the pleasant sight of its natural setting on hillsides bathed by the Rhônelle, but also some noteworthy examples of rural architecture, especially in the village centre. Discovering this heritage site reserves no shortage of surprises! Like for example the Haussy farm (18th century) with its pigeon loft and its fortress-sized proportions, better known as the cense du château.