Pompe à feu du Sarteau - FRESNES SUR ESCAUT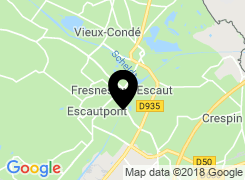 Le secteur sur lequel se trouve la fosse du Sarteau fut le premier exploité dans le bassin minier du Nord-Pas de Calais en 1720.
The Sarteau Fire pump (XIX.)
The area in which the Sarteau pit is located was the first to be operated in the Nord-Pas de Calais coalfield after 1720. Until recent research uncovered new facts, this brick built building resembling a mediaeval keep had always been believed to be a mine head frame used for the extraction of coal. In reality, this remarkable building built in 1826 in the district of Fresnes-sur-Escaut, is actually a fire machine for de-watering, in other words the removal of water which had leaked into the mine's galleries. In this capacity, it is the region's sole reminder of the constant struggle waged by the miners against the encroachment of water and of the advanced technology used by the Compagnie des Mines d'Anzin.