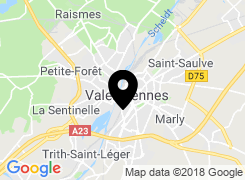 Écluse des Repenties et Parc de la Citadelle à Valenciennes (XVIII°s.)
Un vaste parc permet de découvrir les vestiges de l'écluse des Repenties, du pont restauré de la Citadelle, ainsi que des Bastions des Repenties et du Calvaire
Set on the banks of the Scheldt, this landscaped garden highlights the remnants of the defensive system of the city remodeled by Vauban (Ecluse repenties, bridge of the citadel of the eighteenth century). Siite classified Historic Monument by decree of April 21, 1987. A fortified park to spend a pleasant moment ...